Black Friday Apple Watch deals are expanding as the shopping holiday progresses, with modest discounts on the latest Apple Watch Series 7 as well as some deeper discounts on the Apple Watch Series 6 and Apple Watch Series 3. If you're looking for the best Black Friday Apple Watch deals, we've got them. Keep on reading while we guide you through all the best Apple Black Friday deals along with the best Black Friday deals overall. There's sure to be the ideal bargain for you here.
Best Black Friday Apple Watch deals 2021
Apple Watch Series 3 (38mm, GPS) — $169, was $199
Why buy:
If you're on a budget but want a smartwatch, the Apple Watch Series 3 is a great starting point. With $30 off right now, it's even cheaper than usual. While it's far from the latest Apple Watch, it offers useful features that prove beneficial to keep fit those who are trying to step away from their phone as much as possible. These include a comprehensive GPS and barometric altimeter which tracks how far and high you've gone. It also tracks all your steps, your calorie intake, and how much you're moving throughout the day. When you do partake in a workout, you can set it up to measure that, too. Plus, it'll check your heart rate at regular intervals.
Other features include extensive notification tracking so that there's no need to pull your phone just to see what message has come through. You can even use it to play your favorite music. While Watch OS isn't as speedy on this watch as it is on newer devices, it's still pretty fast. It's swim-proof as well, so you can easily dive in the pool or the ocean with it without worrying. Simply put, the Apple Watch Series 3 does a little bit of everything. It's particularly well suited for working out but it looks stylish as well so it's good for wearing in the office or on a night out if you want to make an impression. An ideal all-in-one solution, it's available at a fantastic price right now.
Apple Watch Series 6 (40mm, GPS) — $349, was $399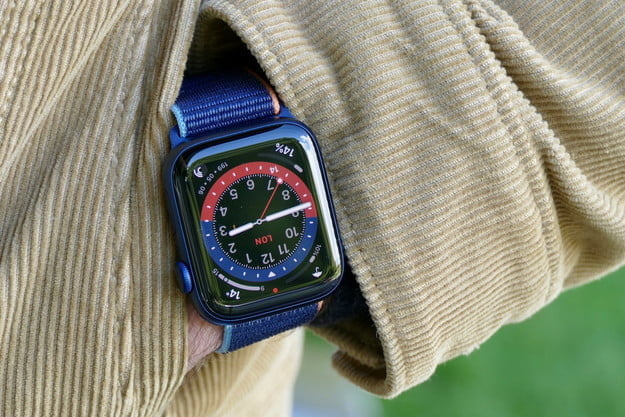 Why buy:
The Apple Watch Series 6 remains a fantastic option for the vast majority of users. Basically, unless you need the absolute latest technology, you will be incredibly happy with the Apple Watch Series 6. It has everything you could need. At its simplest, it has a GPS so it can track all your walks and workouts, knowing exactly where you've been. It goes so much further though. it also has the ability to measure your blood oxygen level via a new sensor and app, as well as check how your heart rhythm is doing via an ECG app. That's alongside ordinary activity tracking such as steps, calories, heart rate, and altitude. It's ideal for the active lifestyle tracking everything you do while rewarding you for good performance or beating your previous records.
In addition, the Apple Watch Series 6 has a gorgeous always-on retina display that's 2.5 times brighter outdoors when your wrist is down than previous models. It makes a huge difference when you're looking at it with the watch constantly feeling ready for action. It's speedy, too, thanks to a fast processor that means you can negotiate its menus super fast and efficiently. When it comes to swimming, it has a water-proof design. Other features include the ability to sync your favorite music and podcasts, as well as receive all your notifications to your wrist. It'll even encourage you to be more mindful with regular breathing exercises available through the watch.
Apple Watch Series 7 (41mm, GPS) — $390, was $400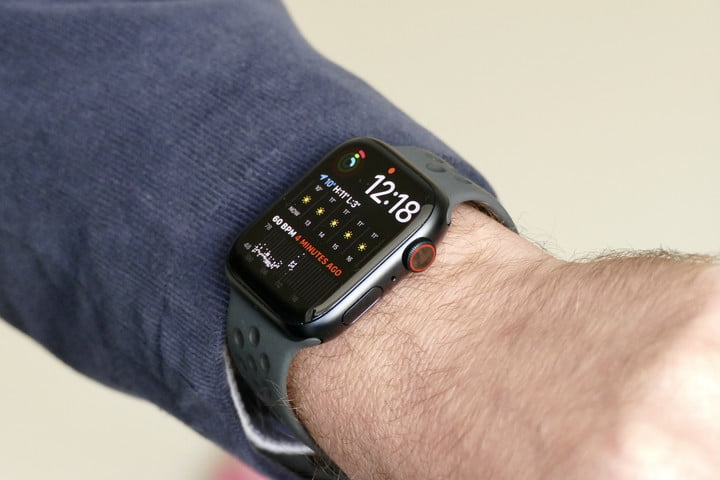 Why Buy:
The Apple Watch Series 7 is the latest Apple Watch and it's amazing, topping our list of the best smartwatches. It might only be modestly discounted by $10 but it's worth every cent thanks to only recently being launched, so any Apple Watch Series 7 Black Friday deal is a good one. Compared to the Series 6, you gain nearly 20% more screen area via its Always-On display which makes everything much easier to see and use. That display is also the most crack-resistant display yet on an Apple Watch with IPX6 dust resistance and a swim-proof design. It's capable of surviving so much more than earlier models which is great for the more rugged explorer. As always, it'll track all your steps, calories burned, altitude, and much more while you're walking or working out so it's ideal for competing with yourself or friends who also own an Apple Watch.
Other features are similarly useful. There's the option to measure your blood oxygen level via a new sensor, track your heart rate and rhythm via an ECG function, plus you'll receive notifications any time something seems wrong or unusual. It's possible to track all your workouts here with new support for tai chi and Pilates, as well as regular favorites. The Mindfulness app also helps you keep in the moment a little more. Alternatively, listen to your favorite music or podcasts via automatic syncing. It all combines to create a watch that feels like a replacement to your phone but all on your wrist, saving you the need to carry even more devices.
How to get the best Black Friday Apple Watch deals
The key to getting the best Black Friday Apple Watch deal is always to plan ahead. Preparation is everything when it comes to getting the right smartwatch for you. Initially, it's important to think about your budget. What can you afford? With a few different models of Apple Watch out there, it's possible to spend under $200 on an older model or much more on the latest device. It all depends on what you need from it and how far you want to go.
Once you've figured out how much you can afford, check out our guides on the subject. We've taken a look at the best smartwatches out there so you can easily compare all things Apple with other Android-based watches and go from there in terms of knowing what features you need or want the most. It's worth knowing as much as possible about the subject before you commit to anything.
We also have individual reviews for the main Apple Watches available in the sale. That includes the ageing but still fairly respectable Apple Watch Series 3 which still offers some useful workout features and tracking facilities despite being a bit slower than the competition. There's also the Apple Watch Series 6 which was the best and most feature-rich smartwatch you could buy until it was beaten by the Apple Watch Series 7. The Series 6 is still well worth checking out though with some great discounts thanks to it being a little older than it used to be. Useful features like an ECG app and blood oxygen monitoring make a huge difference.
Then, there's the latest model in the Apple Watch Series 7. It's the best smartwatch out there right now thanks to speedy performance, a larger screen, and delightfully small bezels. If you want the absolute best, this is the smartwatch to buy, but expect discounts to be better on the Apple Watch Series 6.
Black Friday Apple Watch deals FAQ
If this is your first time shopping the Black Friday Apple Watch deals, you probably have a lot of questions right now. We're here to help you get answers. Even if you've checked out Black Friday deals before, you're sure to learn something here.
Should you shop Black Friday Apple Watch deals now?
You might be wondering why you should shop so early — after all, won't the best Black Friday Apple Watch deals arrive on or after the official sale date itself (November 26)? Last year was a difficult one for shoppers and retailers alike and 2021 is looking to pose some challenges of its own, with ongoing computer chip shortages, container ship traffic jams, and other supply chain issues threatening to make holiday shopping a bit trickier. That means that if you're after what is arguably the best smartwatch on the market, it's not a bad idea to start looking for early Black Friday Apple Watch deals as they become available.
If you're worried about buying now and missing out on the best Black Friday Apple Watch deals later in the month, rest assured that this shouldn't be a problem. Outlets are not only rolling out their 2021 Black Friday sales early, but many are backing up many of their items with Black Friday price guarantees. If you buy an item that's covered by one of these guarantees and it goes on sale again later for a lower price (during the "official" Black Friday weekend sales, for instance), the retailer will automatically refund you the difference. This ensures that you get the best price no matter what.
Will Cyber Monday beat the best Black Friday Apple Watch deals?
Honestly? It's not likely. Cyber Monday is typically a rehash of the best Black Friday Apple Watch deals. That means you'll see the same prices as Black Friday but rebranded as a Cyber Monday deal. However, sometimes, the best Black Friday deals don't make it to Cyber Monday. That can be either because they're an exclusive deal for that day only or because stock has run out during the busy weekend of deals. It's important to not miss out.
Remember, if you buy something on Black Friday and change your mind because it gets cheaper on Cyber Monday or you simply don't want it any more, you can always cancel your order or return the item. Keep an eye out on delivery times though. If you wait until Cyber Monday, you may find delivery pushed back until long after the holidays have ended.
Who has the best Black Friday Apple Watch deals?
As with most of the best Black Friday deals overall, three main retailers stand out. If you're short on time, always check out the Amazon Black Friday deals. These tend to be the best out there with other retailers price matching. Amazon frequently discounts the Apple Watch range throughout the year and Black Friday is sure to be a big deal.
It's worth checking out the Best Buy Black Friday deals going on, too. The brick-and-mortar retailer often offers great deals on the latest Apple Watches and you may even be able to pick up an offer in store after reserving online, saving you the bother of waiting for delivery. That's also the case with Walmart Black Friday deals which are also worth keeping an eye on thanks to typically being pretty good.
When do Black Friday Apple Watch deals end?
Technically, Black Friday Apple Watch deals end the day after Black Friday — Saturday. However, many retailers keep sales going through till Cyber Monday and simply rebrand them accordingly. The key here is that you don't want to miss out. Stock is extra limited this year due to global supply issues so Black Friday deals could end up ending fast simply because the retailer has run out of stock. Don't risk it and buy as soon as you see the offer that works for you.