Need a current-gen smartphone? Black Friday phone deals are your chance to go into 2022 with a next-gen device. The best Black Friday phone deals cover the top brands in the industry, including Samsung, Apple, Google, OnePlus, Nokia, and Motorola, so if you're patient enough with your search, you'll surely find an offer that matches your needs and budget.
If you can't wait to start shopping, the good news is that some of the best Black Friday deals are already available from various retailers. Certain offers won't be around for long and might not even last until Black Friday, so if you see a deal you like, it's highly recommended that you take advantage of it right away. Once it's gone, you might not get a chance to buy the smartphone you want at a discount until next year.
Best Black Friday phone deals 2021
Moto G Power — $170, was $200
Why buy:
The Moto G Power is one of the best value smartphones available on the market, offering tons of great features at a very modest price point for modern smartphones. One of the features that immediately stands out on the Moto G Power is its amazing battery life. Offering up to three days of battery life, it's a smartphone that lasts, whether you are using its 48MP triple camera system to snap photos around town or you're shooting landscapes out on the trails during a hike or camping trip.
And paired with that camera system is a large, sharp 6.6-inch Max Vision HD screen, making camera interaction a more pleasant and immersive experience. That screen also sucks you right into the digital world, offering immersive playback on video games, movies, social media interaction, and video chatting with family and friends. The Moto G Power is the perfect smartphone for everybody, bringing huge specs and huge user satisfaction to a very small price point.
BUY NOW
Google Pixel 4a — $300, was $350
Why buy:
The Google Pixel 4a, with a 5.8-inch Full HD+ OLED screen that's surrounded on all sides by small bezels, is among ' best smartphones as the best small smartphone. Inside the compact frame is the Qualcomm Snapdragon 730 processor and 6GB of RAM for reliable performance that won't let you down when you're multitasking or using demanding apps. The Google Pixel 4a's camera, meanwhile, is one of its best features, with a 12.2MP camera featuring optical image stabilization that's backed by Google's computational photography expertise. The colors in the photos the smartphone takes are natural, the portrait mode's edge detection is better than cameras with multiple sensors, and the night sight mode perfectly balances the brightness and contrast in dark environments.
Since it's manufactured by Google itself, the Pixel 4a will quickly receive any updates to the Android operating system, so you'll be among the first to enjoy new features and get protected from security issues. The smartphone's battery lasts about two days with moderate use, so you won't have to worry about the phone suddenly shutting down because of a depleted battery when you just went out for a few hours. You simply can't go wrong if you purchase the Google Pixel 4a, which is discounted by $50 on Best Buy, lowering the smartphone's price to $300 from its original price of $350.
Nokia 8.3 5G — $480, was $700
Why buy:
Nokia, once the leader in the global smartphone industry, is attempting to revive its name with products such as the Nokia 8.3 5G. Nokia secured assistance with Zeiss for the camera-centric smartphone, which features a 64MP main sensor, a 12MP sensor with an ultrawide lens, and a pair of 2MP sensors for depth and macro duties. These combine to take stunning pictures with rich colors and sharp details while still being simple to use as you'll just have to choose a wide-angle view, a standard view, or Night Mode, which is very effective in revealing textures and details in low-light environments. The smartphone also offers an editing tool for the manual Pro video mode to add effects such as lens flares to the videos you take.
Powering the Nokia 8.3 5G are the Qualcomm Snapdragon 765G and 8GB of RAM for smooth performance while navigating the Android operating system. The device offers 128GB of internal storage, with the option of expanding to up to 1TB through its microSD card slot. You should be taking a lot of pictures and videos with the Nokia 8.3 5G, so you'll want to have lots of storage space so that everything is within your reach. If you're already looking forward to unleashing your creativity with the Nokia 8.3 5G, then you should take advantage of Best Buy's offer that slashes $220 off the smartphone's original price of $700, making it more affordable at just $480.
Google Pixel 6 — $499, was $599
Why buy:
The new Google Pixel 6 is also getting a discount this Black Friday shopping season. Reimagined inside and out, the Pixel 6 is powered by Google's first-ever processor, known as Tensor. It's fast, smart, and secure, using a Personal Safety app and a dedicated chip to protect you and your privacy. A 50MP camera setup features wide and ultrawide lenses, and a feature called Magic Eraser in Google Photos can remove photobombers and other unwanted distractions in your pictures.
The Google Pixel 6 experienced a highly anticipated launch and hoped to shatter smartphone sales records. Its popularity continues into the holiday shopping season. And it's no surprise, as the Pixel 6 also offers a 6.4-inch Smooth Display screen that plays back at up to 90Hz for smooth scrolling and video watching. The screen is also made of the toughest Gorilla Glass currently made, bringing toughness to any drops or spills that may find their way to your phone interactions. The Google Pixel 6 comes in 128GB and 256GB configurations, both of which should make for plenty of space for all of the apps, photos, and music you could hope to fit into your pocket.
OnePlus 8T — $500, was $600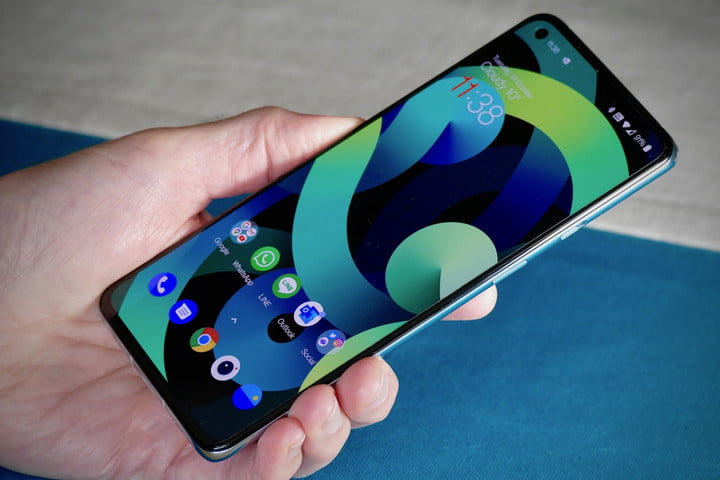 Why buy:
The OnePlus 8T, an upgrade to the OnePlus 8, maintains features such as the 120Hz refresh rate on the smartphone's 6.6-inch AMOLED screen and the redesigned body, which are among the most popular features of the flagship device. But when comparing the OnePlus 8T vs. OnePlus 8 Pro, the newer version stands out because of the repositioned camera module at the back that makes it look much tidier, fast-charging capabilities through the Warp Charge feature that can take the battery from 0% to 60% in 15 minutes and from 0% to 100% in just 39 minutes, and a 2MP monochrome lens that will let you take black-and-white pictures without requiring the use of a software filter.
The smartphone is powered by the Qualcomm Snapdragon 865 processor and 12GB of RAM, so you won't experience any slowdowns when you're launching even the most demanding apps. With storage space of 256GB, you'll be able to install lots of apps and save many pictures and videos so that everything will be in your hands. Adding to the OnePlus 8T's stature as a premium device is its glass finish over an aluminum chassis that doesn't have any sharp edges. If the OnePlus 8T sounds like the perfect choice as your next smartphone, don't hesitate — click that Buy Now button to purchase the device for $500 from Amazon, after a $100 discount to its original price of $600.
OnePlus 9 — $600, was $730
Why buy:
The OnePlus 9 is now one of the most feature-packed smartphones on the market. It comes in a range of cool colors for anybody looking to make a fashion statement with their smartphone, and base models offer 128GB of storage — plenty for all of the apps and digital content you need to have with you at all times. Sixty-five-watt fast-charging functionality can take your OnePlus 9 to a day's worth of power in only 15 minutes, and the OnePlus 9 also supports Qi wireless charging.
Perhaps the most enticing feature of the OnePlus 9 is its high-quality, highly versatile Hasselblad camera system. It has three lenses developed by Hasselblad, one of the most renowned names in cameras, which include a 48MP main camera and 50MP ultrawide. The OnePlus 9 is 5G-ready, rocks this great camera system, and displays all of its offerings on an amazing 6.5-inch display. It's a great smartphone for photographers, influencers, social media moguls, and anyone who gets a kick out of a great smartphone experience. If you aren't sure whether the OnePlus 9's bigger brother, the OnePlus 9 Pro, is a better camera for you, we actually think you can save yourself some money by going with the OnePlus 9, as you can read about in our OnePlus9 vs. OnePlus Pro article.
Samsung Galaxy Z Flip 3 5G — $850, was $1050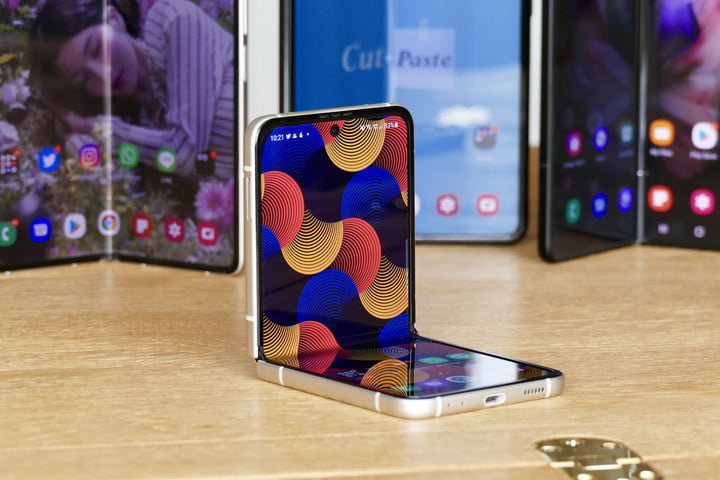 Why buy:
Every year, Black Friday iPhone deals draw lots of interest, but rival Samsung is always challenging Apple with products like the Samsung Galaxy Z Flip 3 5G. The foldable smartphone may be unfolded to any angle, depending on what you need for the situation. You can unfold it all the way back to access the full 6.7-inch screen or unfold it halfway so you can set it down and take pictures or join video calls hands-free. You don't have to worry about breaking the device because of the number of times you'll open it in a single day, though, as Samsung promises durability, in addition to IPX8 water resistance. Samsung uses magnets to keep the device securely closed — opening the smartphone is smooth, and it locks itself into an open position once you've opened it all the way.
In addition to the 6.7-inch AMOLED screen that's inside the Samsung Galaxy Z Flip 3, it has a 1.9-inch Cover Screen on the back that you can access when the smartphone is folded. The 120Hz refresh rate of the main screen keeps things smooth and reduces eye strain, while the Cover Screen presents different kinds of interaction. You can swipe left on the small screen to access music controls, a voice recorder, the weather, and other customizable widgets, and when you swipe right, you see your phone's notifications. Amazon's foldable phone deals currently include the Samsung Galaxy Z Flip 3 for $925, a reduction of $75 from its original price of $1,000.
How to get the best Black Friday phone deals
Sometimes it's out of sheer luck, but most of the time, being able to take advantage of the best Black Friday phone deals requires preparation. You won't be able to beat other shoppers to the punch when you're just doing your homework on the day itself, so take the time to do your research before you jump into the chaos of Black Friday.
First and foremost, you need to determine your budget, so you won't be tempted to overspend on a model that's out of reach or underspend when you can afford a more powerful smartphone. You also need to figure out the features that are most important to you when choosing a smartphone, starting with whether you prefer Apple's iOS or Google's Android operating system. From there, you have to determine what you want to prioritize among extremely fast performance, a large touchscreen, expandable memory, long battery life, and high-megapixel camera, among others. You'll also have to consider the carrier that will go with your new phone — it will be a waste of money if you buy a device that can't make calls or connect to the internet because you selected a carrier with poor coverage on your block. To make the right decision, you'll have to ask your family or friends for their reviews on the different carriers that are available in your area.
Once you're ready with all this information, it's time to distill all that into specific brands and models that you'll be aiming to purchase with this year's Black Friday phone deals. You can check out ' best smartphones for recommendations on what to buy for the shopping holiday, including devices from Apple, Samsung, Motorola, and Google. If you've decided to go with an iOS device, you should take a look at our best iPhones to buy, but if you want an Android device, then browse through our best Android phones. You shouldn't only focus on one smartphone, though, as there's a chance that you won't find a good deal for it. Prepare at least three choices, so you won't have to go through the whole process again if there's no good offer for the smartphone that you want.
Black Friday phone deals FAQ
Whether this is your first time to try shopping Black Friday phone deals, or even if you're a veteran at this annual craze, you shouldn't forget these vital pieces of information.
Should you shop Black Friday phone deals now?
The best Black Friday phone deals offer significant discounts on different brands and models, and if an offer catches your eye, you should probably add it to your cart and check out immediately. That's because the global microchip shortage is affecting the supply of electronic devices around the world, including smartphones. The stock that retailers have in their inventories might not be enough to match the demand for popular smartphones, so you should grab the mobile device you want as soon as possible.
Some shoppers believe that you should wait for Black Friday itself when the discounts could be much bigger compared with the best Black Friday phone deals you can get right now. That's often not the case, though — if prices go lower, it's usually only for a few more dollars. You shouldn't risk the chance of your preferred phone selling out to wait for lower prices, as retailers running out of stock is more likely to happen than a significantly better offer suddenly appearing out of the blue.
Will Cyber Monday beat the best Black Friday phone deals?
Some shoppers believe that when you're planning to buy a new phone, you should skip the best Black Friday phone deals because there will be bigger discounts on Cyber Monday. Unfortunately, that's not true, as most of the deals that you can get on Cyber Monday are just leftovers from the discounts that you see on Black Friday. This means that if you see a Black Friday offer for a smartphone that you like, you shouldn't hesitate to take advantage of it.
On the chance that you do see a cheaper price on Cyber Monday for a smartphone that you already purchased on Black Friday, you have the option of canceling your order or returning the product so that you can get a refund. This will let you take advantage of a Cyber Monday deal without doubling your purchase, so there's really no reason not to purchase from Black Friday phone deals.
Who has the best Black Friday phone deals?
There's no shortage of retailers who claim to have the best Black Friday phone deals for the shopping holiday, so it might be tough to narrow down your choices on where to purchase your next device. Some manufacturers are also participating on Black Friday, so there are even more sources for offers that you might have to check out in your search for the lowest possible price for the phone that you're planning to buy.
However, it's highly recommended that you start with retailers because they offer the biggest discounts and sometimes include freebies with your purchase. You should check out Amazon Black Friday deals, Best Buy Black Friday deals, and Walmart Black Friday deals, among others, when you're looking for a new phone, as these sources give you the best chance at finding a deal that will blow you away. You just have to be patient, and you'll surely find the perfect offer that fits your needs and budget.
When do Black Friday phone deals end?
Black Friday phone deals technically end on the Saturday following Black Friday, but most retailers continue offering them over the weekend and rebrand what's left once Cyber Monday hits. However, some of the best Black Friday phone deals have already ended, as retailers aren't able to keep up with the demand from shoppers, giving you another reason to finalize your purchases as soon as you can if you see a deal for the device that you want.