You don't have to search far and wide to find the best laptop deals. Whether you're shopping for a Chromebook, MacBook, Windows laptop, or maybe something you can buy to transform into a portable Linux machine, we have you covered with our curated list of the best laptop sales you can shop today. With pricing starting at only $129, you're bound to find something to fit your budget. Best of all, with early Black Friday deals already rolling out at retailers like Amazon, Best Buy, and Walmart, there are no shortage of fantastic Black Friday laptop deals you can shop right now. Retailers and manufacturers are encouraging people to do their shopping now to avoid shipping delays, so now's the perfect time to buy.
Today's Best Laptop Deals
Asus Chromebook C223 — $119, was $219
We can't believe we're typing this, but early Best Buy Black Friday deals have brought an incredible discount on the 11.6-inch Asus Chromebook C223 to the tune of $100 in savings. This sees this Chrome OS-powered laptop on sale for $119 — easily one of the best Chromebook deals we've seen this year. Granted, it may be a little small for most people, but if you're looking for a laptop to take around campus or use on the train to work, then it's ideal. With 4GB of RAM and 32GB of flash storage, it's the perfect companion for document editing and web-browsing on the move, and even for a first laptop or something inexpensive for students.
Dell Inspiron 15 3000 — $250, was $419
There's a reason Dell is a household name and is the computer manufacturer of choice for businesses all over the world: It makes some of the best laptops money can buy. The Dell Inspiron 15 3000 is something of a kitchen sink, catering to both professional and personal users alike. It features an immersive 15.6-inch screen, 4GB of RAM, and an 128GB SSD. That's a little large to lug around, but if you're looking for a laptop to use at home or in the office, it's perfect. It carries a sticker price of $419but it can be yours today for only $250. Like most Dell laptop deals, stock is limited so act fast or risk missing out.
Microsoft Surface Laptop Go — $550, was $700
After decades as a software company, Microsoft is now making some excellent computer hardware of its own, and the budget-friendly Surface Laptop Go is a sleeper hit. Its 12.4-inch size is perfect for a laptop you can take on the go, but don't let the size fool you: That display (which is also a touchscreen!) has a 3:2 aspect ration, giving you more real estate to work with than most laptops. That means that it feels bigger than it is, and its sleek chassis design doesn't hurt, either. A $150 discount lets you grab this laptop deal for just $550 — a downright steal for one of the best Windows laptops on the market right now.
Dell XPS 13 — $650, was $950
Widely regarded as not only one of the the best Dell laptops, but one of the best laptops period, the Dell XPS 13 is a workhorse that easily rivals the Apple MacBook Pro 13. This particular model, which usually retails for $950 but is on sale for $650, features an Intel Core i5 CPU, 8GB of RAM, and a 256GB SSD. It also has a 13.3-inch 1080p display and comes with Windows 11 right out of the box. As far as Dell XPS deals go, this is one of the best we've seen in a while and one anyone in the market for this particular machine can't afford to miss.
Apple MacBook Air — $949, was $999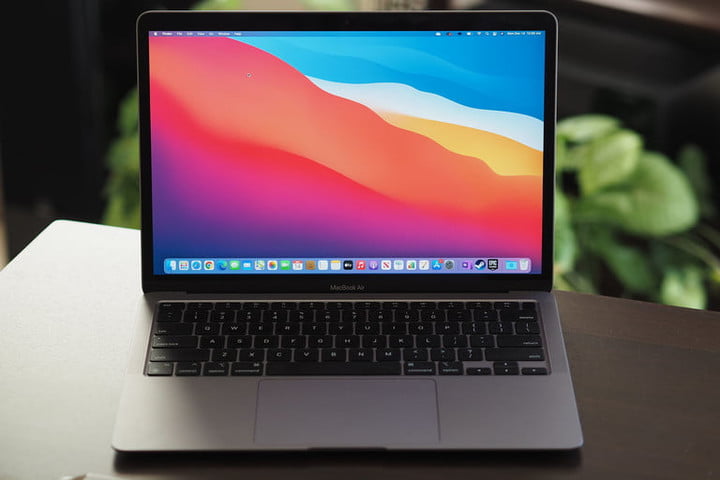 The world's most recognizable portable laptop, the MacBook Air, is on sale at Amazon for $949 (down $50 from the usual $999, and the gold color is also on sale for another $50 off). That may not seem like the largest discount in the world, but MacBook deals are few and far between and it's uncommon to see hundreds shaved off any Apple device, so this is still a good deal. Powered by Apple's M1 Chip, this machine has 8GB of RAM and a 256GB SSD. It's also armed with Touch ID for fingerprint authentication and promises an all-day battery life of 18 hours. Whether you're shopping for business, pleasure or study, the MacBook Air is sure to impress.
How to Choose a laptop
The first step of choosing a laptop, after setting your budget, is determining what you need it for. Most people just need a standard laptop that will perform well and won't feel outdated within one or two years, and for that, you've got plenty of very affordable options available to you. Those with more specific needs — artists, graphic designers, video editors, and gamers, to name some examples — may need extra features like touchscreens, fold-flat displays, and dedicated graphics cards. Keep size in mind as well. Laptops commonly range from 13 to 17 inches (which refers to screen size measured diagonally), and also pay attention to overall dimensions and weight if you're going to be moving and carrying yours around fairly often.
As far as hardware goes, the three basic components to consider are CPU, RAM, and storage. The CPU, or central processing unit, is the "brain" of any PC. It's what actually does the computing: Reading data, running programs (and other processes), and so on. The two biggest CPU makers are Intel and AMD, and unless you're on the tightest of budgets, we typically recommend sticking with 10th or 11th generation Intel Core i5 processors, AMD Ryzen 5 processors, and above (Core i7, Ryzen 7, etc.). If the specific generation of Intel CPU isn't stated explicitly, it will be indicated in the first two digits of the processor's model number. For example, a Core i5-10400 is a 10th-gen model, while the Core i5-11400 is 11th-gen.
RAM, or random access memory, is a bit more straightforward. In simple terms, if the CPU is your PC's brain, then RAM could be described as its short-term memory. It supports your CPU's performance by storing data and tasks for quick recall when needed. The more the better. We suggest a minimum of 8GB for good performance by modern standards, and like Core i5 and Ryzen 5 CPUs, you can find this even on affordable laptops — you really aren't saving much money my skimping on RAM, but you will definitely feel your computer stumbling when under load.
Storage needs are personal to the user, but today, solid-state drives (SSDs) have largely replaced older platter-based hard disk drives (HDDs) owing to their superior read/write speeds and reliability due to lack of moving parts. However, SSDs are typically smaller (or at least cheaper per gigabyte) than traditional HDDs, which is something to bear in mind if you do need a lot of storage space for things like games or large project files. We recommend sticking with SSDs as a rule, but some laptops come with a smaller solid-state system drive paired with a larger HDD for overflow, so you've got options.
Finally, depending on your needs, a discrete video card may be worth the extra money. A GPU, or graphics processing unit, is essentially a second processor dedicated solely to demanding graphical tasks like rendering videos and playing 3D video games. Mobile laptop GPUs are a bit different than their desktop counterparts and Nvidia GeForce cards are by far the most common. The current-gen models are the 16-series, 20-series, and (less common) 30-series cards. Avoid the 10-series cards still found on some laptops, as they are significantly outdated by today's standards. AMD has also rolled out its own line of laptop graphics cards, the 5000M series, as mobile counterparts to its desktop GPUs. These are a fine option as well, especially if you prefer AMD hardware.