Black Friday MacBook deals are in full swing now and there are some great bargains out there if you're keen to save big on the latest MacBook Air and MacBook Pro. We've rounded up all the best Black Friday deals going on at the moment as well as cast an eye on the best Black Friday laptop deals in particular. Whatever you're looking for, we've got you covered. Read on while we guide you through what you need to know about the Black Friday MacBook deals.
Today's best Black Friday MacBook deals
2020 MacBook Air — $1,100, was $1,200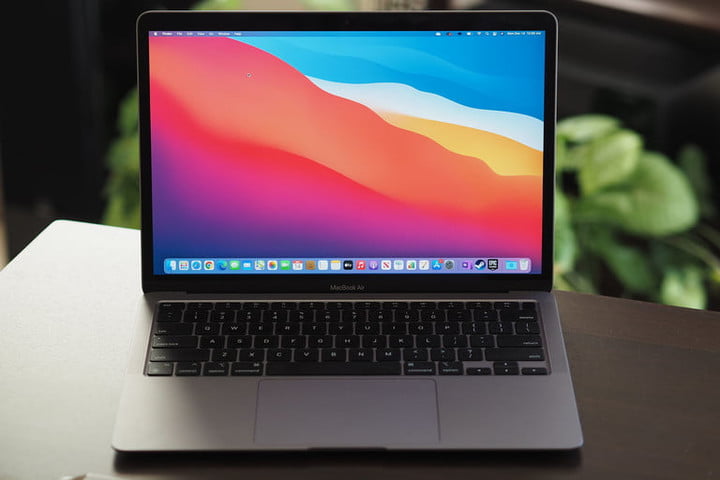 Why Buy:
The 2020 MacBook Air is effectively the Mac starter kit and we mean that in a good way. Well priced and with plenty to love, it's ideal if you're new to Macs or simply looking to upgrade from an existing Mac system. With a great keyboard, excellent build quality and far superior performance than past models, it's a great choice even if it's not quite the latest MacBook Air any more. Our MacBook Air buying guide lays out everything you need to know about picking out a MacBook Air but we also have a breakdown of other things you need to know before buying one of the best MacBooks.
In the case of this MacBook Air, you get the Apple M1 processor which provides superior performance than Intel-based MacBooks. In conjunction with that, it also means you get to reap the benefit of better battery management too so this laptop will last you up to 18 hours. That means no need to find a power source throughout the working day and beyond for most users. You'd think that would mean inferior speed but instead, the M1 chip delivers up to 3.5 times faster performance than the previous generation of MacBook Airs. Somehow, it does all that with a fanless design so it runs super quietly while still remaining very cool as well.
The benefits of the 2020 MacBook Air don't stop there either. You also get a stunning 13.3-inch Retina display which looks fantastic. Text is sharp and clear while colors look incredibly vibrant. It's the kind of experience that will make you question how you put up with regular HD screens beforehand. Elsewhere, you also get a convenient to use FaceTime HD camera, Touch ID support so you can log in easily with a touch of your finger, plus a backlit keyboard. Everything about the MacBook Air is attractively designed so it's a really stylish system to own. It's an ideal system for working, studying or simply relaxing at home with.
2020 MacBook Pro — $1,200, was $1,300
Why Buy:
The 2020 MacBook Pro is a delightful MacBook to use. It offers fantastic performance, equally exceptional battery life, a gorgeous display, great speakers, and even a comfortable keyboard to use. It's the kind of device that you'll wonder how you lived without, providing you look through our MacBook Pro 13 buyer's guide so you know what to expect. Best of all, it should last you a number of years as is often the way with most MacBook systems.
At its heart, the MacBook Pro has an Apple-designed M1 chip which represents a huge leap in performance for Apple systems. Its 8-core CPU delivers up to 2.8 times faster performance than previous generations of the MacBook Pro while its GPU provides up to 5 times faster graphics making it ideal for video editing, photo editing, and even some light gaming. Combined with that is a 16-core Neural Engine which provides advanced machine learning for all-round superior performance. Somehow, despite all that power, you still get to enjoy up to 20 hours of battery life — the longest ever seen on a Mac laptop. It's the kind of battery life that means you're likely to not need to recharge it for a couple of days at a time which is sure to be useful.
Elsewhere, the MacBook Pro continues to be smart and convenient. It has a decent amount of storage — 256GB to be exact — along with 8GB of memory so it can multitask pretty well. In addition, its 13.3-inch Retina display is predictably gorgeous. With 500 nits of brightness, you're guaranteed vibrant colors and incredible image detail. It's a real game changer for many, especially if you plan on doing a lot of creative work on the system. There's also a FaceTime HD camera for taking video calls for work or pleasure. Even the MacBook Pro's keyboard feels great, feeling suitably comfortable to tap on for extended periods of time. It also includes a touch bar at the top of the keyboard for personalized interactions with specific apps. Simply put, everything about the MacBook Pro is incredibly convenient and simple to use. Just what you need for both work and fun.
How to get the best Black Friday MacBook deals
It's important to plan ahead when diving into the Black Friday MacBook deals. We're not criticising you but it's easy to get lured into what looks like an amazing deal, right? We all get excited. However, it's important to know what you're really looking for. That way, you can avoid buying something that's wrong for you. You can also avoid discounts that are simply incremental rather than something that's a genuinely great offer. That goes for all Black Friday deals but when it comes to MacBooks, you're likely looking for a great investment that will serve you well for many years to come.
That's why it's vital that you check out the content listed above. Read up on the best MacBooks so you know everything about the differences between a MacBook Air and MacBook Pro. Generally, the difference is performance and how lightweight they both are but the gap is closing. For the majority of users, a MacBook Air is the ideal solution. It's lightweight, offers great battery life, and still packs a punch with performance. The MacBook Pro offers superior processing power but most users won't need it. It's only really important if you plan on video editing or editing photos while on the move. Having said that, if you need a form of desktop replacement due to limited space at home, the MacBook Pro is a sweet option here.
Whatever you decide, check up on prices. The MacBook Pro typically costs more but during Black Friday deals, this can change rapidly. This might be the time to invest in the pricier model while not actually spending any extra. Check major retailers to see what they're offering and don't be swayed to a system you don't actually want. Also, check the age of the MacBook Air or MacBook Pro. It might actually be an older model than you want. It's not worth buying up anything Intel-based unless it's significantly cheaper than the M1 version and you're ok going with an older type of MacBook. Most users are better sticking to 2020 models and newer.
Black Friday MacBook Deals FAQ
If this is your first time shopping the Black Friday MacBook deals, things can feel pretty overwhelming. Luckily, we're here to answer any questions you may have. Even if you're used to Black Friday deals, you may learn something new here.
Should You Shop Black Friday MacBook Deals Now?
Yes, in a word. If you see a great deal, there's absolutely no reason why you shouldn't snap it up immediately. Right now, there are some extensive stock shortages globally due to ongoing chip shortages so MacBooks and pretty much all other technology is tough to find, especially on sale. With such high demand also heightened by more people continuing to work from home, if you see a good deal, you should pounce on it immediately.
Besides the fact the sale may end fast, stock might simply run out meaning you'll miss out on a great deal. If the deal you see suits your budget and needs, don't miss out. Buy it. That way, you get to enjoy your new MacBook, skip all the stress of waiting for something that could be better but might not be, plus you're likely to actually receive it in time for the holidays. Wait any longer and your order might get pushed back substantially.
Will Cyber Monday beat the best Black Friday MacBook deals?
Cyber Monday is often more of a rerun of the best Black Friday MacBook deals. You'll often see the same deals run into Cyber Monday but on the other hand, that's far from guaranteed. Wait too long and there's no guarantee that the discount will still be there on Cyber Monday or that there will even still be stock of what you're looking for.
Remember, if you do happen to see your purchase cheaper on Cyber Monday (it's unlikely, honest), you still have options. You can choose to cancel your order or even return the item if it's already been shipped. Just make sure that anything you do decide to buy on Cyber Monday will actually arrive in time for the holidays, otherwise it might not be worth your while. A good deal is only a good deal if you actually get the item reasonably soon after you order it, otherwise you might feel like you're missing out.
Who has the best Black Friday MacBook deals?
Apple rarely has great discounts directly so instead, it's good to consider some of the more commonly mentioned retailers out there. Amazon Black Friday deals are absolutely worth your time. Amazon frequently discounts many Apple products including MacBooks so they're worth checking out.
In addition, it's worth checking out the Best Buy Black Friday deals and Walmart Black Friday deals. Both retailers offer brick-and-mortar presences as well as being online. That means that potentially you can buy a MacBook online before going to pick it up in-store. That's ideal if you simply can't wait but also don't want the hassle of solely going into a store around the holiday season. Such flexibility is sure to be worth considering plus both retailers often discount MacBook Airs and MacBook Pros.
When do Black Friday MacBook deals end?
Technically, Black Friday MacBook deals end the next day — the Saturday after Black Friday. However, many retailers continue to run deals over the weekend before rebranding them as Cyber Monday deals. In theory, many offers will still be there after the weekend but there's a catch — stock issues. Right now, retailers and manufactures alike are finding it difficult to meet demand so if you hold on until Cyber Monday, you may find that some of the best Black Friday MacBook deals are long gone. Buy today instead.