The 2021 Cyber Monday deals have come, and so has the time to shop for Cyber Monday Chromebook deals if you've been thinking about grabbing one of these efficient and affordable Chrome-powered laptops but you've been holding out for a discount. There are plenty of great Cyber Monday laptop deals up for grabs at the moment, and these include a steady flow of deep discounts on Chromebooks, so now's your chance. Read on to see all the best Cyber Monday Chromebook deals that are currently up for grabs:
Best Cyber Monday Chromebook deals 2021
Acer Chromebook 311 — $109, was $249

Why buy:
The best Chromebooks don't have to cost a fortune, as demonstrated by this Acer 11-inch Chromebook. It looks fantastic thanks to its sleek black and gray stylings, making it seem like a far more expensive laptop than it actually is. There's no reason why you have to skimp on style even when checking out the cheapest of Chromebooks.
Elsewhere, it packs a reasonable punch for the price. It has a MediaTek octa-core processor, along with 4GB of memory and 32GB of eMMC storage. We're also huge fans of the Chromebook having an 11-inch HD screen. Most Chromebooks go larger than this, but that compact screen makes this laptop a good choice for being more productive while on the move. You certainly won't miss out on any key details here.
It's these little things that soon add up and make this Chromebook a fantastic value for the price. Other features include all-day battery life, an HD webcam, a USB-C port, and solid Wi-Fi, as well as Bluetooth so your connection will never drop — just what you need from a reliable portable device.
Also available
Lenovo Chromebook 3 Touch — $149, was $319
Why buy:
The Lenovo Chromebook 3 offers a lot for its low price — that's because it's a touchscreen laptop. You can use it as a regular Chromebook, or you can switch it up and start using it sort of like a tablet. However, it's not a 2-in-1, so the display sadly doesn't fold flat. Nonetheless, a large 14-inch touch display is easily the best thing about the Lenovo Chromebook 3 because it's simply so flexible. It's the kind of extra detail that we love to see in these cheap Chrome OS machines. However, there's plenty more to love about this Chromebook.
It has a MediaTek multi-core processor, 4GB of memory, and 64GB of eMMC storage. It's just what you need to get stuff done before storing things on the cloud via Google apps. Impressively, there's also a battery life of up to 10 hours, so there's little chance of you running out of juice, even throughout the busiest of days. Whether you're using it as a laptop or taking advantage of the handy touchscreen, the battery life remains the same, so it's truly convenient.
While it could be a little faster, if you want a touch display but don't like the smaller 11-inch Chromebooks, this is an ideal alternative.
Also available
Lenovo Chromebook Flex 3 11-inch — $160, was $320
Why Buy:
The Lenovo Chromebook Flex 3 11-inch keeps things simple yet surprisingly practical. It has almost everything you could need from a basic Chromebook, even if it's not the fastest of devices. That includes a MediaTek processor, 4GB of memory, and 64GB of eMMC storage. The latter is a bit of a rarity for Chromebooks, especially at this price. Simply put, usually you only get 32GB of storage. That's usually just fine as the majority of your files and work will be conducted online via the cloud but it's nice to know you have the extra space at your disposal.
The other big convenient factor is that the 11.6-inch display can also be used as a tablet. You can easily switch things over between using it as a laptop or as a tablet with the option to use a form of a kickstand to place it in a more convenient way for typing up documents or presenting certain things. You can even turn it into a portable movie-watching device.
Long battery life means you won't have to worry about running out of juice any time soon, either. Plus, it's very practical in terms of size. It's less than an inch thick and it only weighs about the same amount as a hardback book, so it's easy to toss into your bag and take between classes or on your daily commute. Simple yet effective, it'll make your life far more productive over time.
Samsung 15.6-inch Chromebook — $199, was $299
Why Buy:
The Samsung 15.6-inch Chromebook instantly has one key thing going for it: Its screen size. It's a great size display for a Chromebook, especially at this price. Being able to see so much more, thanks to it being 15.6-inch rather than anything smaller, is a huge advantage if you plan on using your Chromebook to type up plenty of documents or presentations. Despite that large screen size, it remains portable at just 3.75 pounds and 0.6-inch thin. Simply put, it looks great, suggesting it's far more expensive than it actually is. It would not look out of place in an office environment.
Under the hood is a set of reasonable specs. That includes an Intel Celeron processor, 4GB of memory, and 32GB of eMMC storage. The latter is a little on the low side, but that's because Chromebooks are designed for storing the bulk of your files on the cloud. There's always a built-in media reader, too, if you want more physical storage, but Google apps should mean this is rarely necessary.
Other features include a built-in HD webcam with a microphone, so you can easily take video calls with your buddies or for work purposes. At this price, this Samsung Chromebook has everything you could need while looking pretty great too. It's sure to catch some people's eyes, who are bound to be surprised at the price you paid.
Also available
Lenovo IdeaPad Duet Chromebook — $225, was $280
Why Buy:
Looking so much sleeker than anyone could expect of a Chromebook, the Lenovo IdeaPad Duet is pretty sweet. As the name spells out, it's a two-in-one — more like a tablet with a keyboard — sporting a 10.5-inch 1200p touchscreen; no 720p nonsense here. That means you can easily get more tactile with what you're doing, thanks to its vibrant touch display that lets you use this thing as a dedicated tablet if you want. You can easily detach the keyboard and kickstand, making it a great travel companion. However, it does so much more than that.
That's in part thanks to its MediaTek Helio processor, along with a 4GB of DDR4 memory. For its size, it's surprisingly useful for multitasking purposes. There's also 64GB of eMMC storage, which is plenty to store all your key files for when you don't want to solely rely upon the cloud.
The Chromebook comes with an enlarged touchpad, so you have more room to interact with it, but it's also compatible with a stylus (sold separately), so you can use a pen to get things done more efficiently.
Also available
Asus Chromebook Flip C433 14-inch — $330, was $480
Why Buy:
Asus is a household name in the world of Windows PCs, but this value brand is also serving up some of the top Chromebooks that have been hitting the market in recent years. One of them is the excellent 14-inch Asus Flip C433, which is easily one of the best Chromebooks for students thanks to its utilitarian size, reliable performance, and affordability.
Asus PCs tend to be pretty reliable performers, and although the Flip C433 has pretty standard specs for a laptop, it's no exception. It'll get the job done for work with its Core m3 CPU and 8GB of RAM, and with an HD webcam, you can also use it for video calls and online classes. The attractive design is durable, and the Chromebook has some nice modern touches like Bluetooth connectivity and a USB-C port.
Another thing we like about the Asus Chromebook Flip C433 is its fold-flat display — and the fact that it's a Full HD 1080p panel (not standard 720p HD, like you often see on cheaper laptops). You also get a normal 64GB solid-state drive, giving you a little extra storage space for all your stuff.
Acer Chromebook Spin 713 — $346, was $373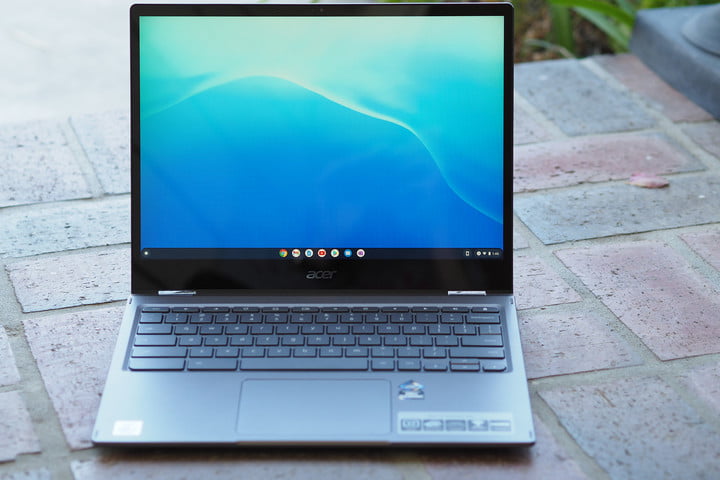 Why buy:
The Acer Chromebook Spin 713 is potentially overkill for some users, but it looks great. It offers a Core i3 processor — which many Chromebooks don't provide. It also has 4GB of memory plus 64GB of SSD storage rather than the usual 32GB that such devices typically have. It's solid hardware for a Chromebook, which is why it's considered to be a more premium device. If you can't decide between a regular laptop or a Chromebook, this is a good way of having some of the power of a laptop while enjoying the benefits of ChromeOS.
But where it really shines is its gorgeous 2K 13.5-inch touchscreen, which folds flat so you can use it as a tablet as well as a regular laptop. Useful features like a backlit keyboard, a built-in HDMI port, and two USB-C sockets all add up to make this a truly high-end Chromebook. It also has a unique 3:2 ratio display that gives you an extra 18% more vertical space, making it feel bigger than it is.
The thing we most like about the Acer Chromebook Spin 713 is how smartly designed it is. Everything oozes class, from its USB-C ports and DisplayPort functionality support to the lightweight design that's still robust thanks to its metal chassis, plus 11 hours of battery life. It even offers DTS audio, so it's great for listening to music or streaming your favorite shows.
Samsung Galaxy Chromebook 2 — $399, was $549
Why Buy:
The Samsung Galaxy Chromebook 2 looks gorgeous in every way. At its simplest, it looks delightful with a mercury gray or red exterior that looks far more expensive than it actually is. However, it's the touchscreen that's truly exceptional. It's a 13.3-inch QLED display — something you don't often see in any laptop, let alone a Chromebook. In fact, it's the world's first-ever QLED Chromebook, giving you something to boast about to friends. It means crisper colors and far superior image quality than you'd get with other Chromebooks, plus you can always go hands-on with the touchscreen if you need to. That gives it a real sense of class and means it's fantastic to use. It actually looks more like a MacBook than a regular Chromebook, thanks to its stylish gray design and thin bezels.
Alongside that, the Chromebook is simply great elsewhere. It has an Intel Celeron processor, 4GB of memory, and 64GB of eMMC storage — everything you need to get things done. It also has Smart Amp audio, which surrounds you in sound up to 178% louder than normal amps, plus it has a backlit keyboard with wider keys for added convenience.
Everything about the Samsung Galaxy Chromebook 2 has been designed with convenience in mind, so you get a truly professional experience for far less than you'd ordinarily expect to pay. If you're keen to enjoy a more premium Chromebook for less, this is the one for you.
Also Available
Samsung Galaxy 4K Chromebook — $599, was $999
Why Buy:
The Samsung Galaxy brand extends beyond smartphones now and graces one of our all-time favorite Chromebooks: The 4K Samsung Galaxy two-in-one. Simply put, this 13-inch convertible is an amazing value for a 4K laptop, even before you consider its impressive hardware and great all-around performance.
Under the hood, this Chromebook packs an Intel Core i5 processor, which works alongside a full 8GB of memory to deliver great all-around performance with the cloud-based convenience of Chrome OS. If you've found cheaper Chromebooks stuttering and stumbling a bit under heavier workloads, this hardware package is a worthy upgrade.
On top of that, the Galaxy 4K Chromebook is a true two-in-one convertible with a UHD thin-bezel display that folds flat, and instead of eMMC flash storage, you get a nice 256GB SSD that gives you some more space for your apps and other digital goodies. That's a nice touch for times when you're offline and can't access the cloud. It also delivers surprisingly good audio from its built-in stereo speakers. It's built well and offers great battery life, too. If you're willing to pay for some hardware upgrades, a gorgeous 4K display, and a refined design, then the Galaxy two-in-one 4K Chromebook is well worth the extra cash.
Google Pixelbook Go Touchscreen Chromebook — $599, was $649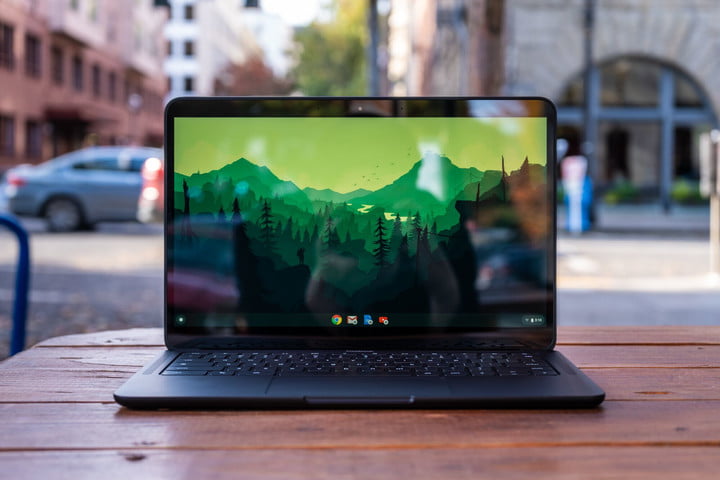 Why buy:
Google might be known as a software company, but it offers some pretty solid hardware in its Pixel line, including the Pixelbook Go and Pixelbook. The 13-inch Pixelbook Go is the more budget-friendly model of the duo — with the standard Pixelbook's price being on par with that of MacBooks! — and proves why Chromebooks are still the top choice in classrooms. If you're having trouble choosing between Chromebooks and laptops, the Pixelbook Go can make that decision a little easier with its PC-like specs.
Those specs include an Intel Core m3 CPU and 8GB of RAM that combine solid performance with the cloud-based convenience of Chrome OS. Its 13.3-inch touchscreen is a bright and vibrant 1080p panel as well, which is a notable improvement over most Chromebook displays — many of which are only 720p — and it delivers surprisingly good audio from its built-in stereo speakers.
This is one of the best Cyber Monday Chromebook deals available right now on one of Google's finest offerings, and one of our all-time favorites. If you're willing to pay for some hardware upgrades, a higher-quality display, and a refined design, then the Pixelbook Go is well worth the extra cash.
Also Available