Cyber Monday has arrived, bringing with it big savings on gadgets and electronics of all kinds, thanks to deals like these Cyber Monday projector deals. To help you hunt down the best projector for your home theater setup and the best possible price, our team has been digging through all sorts of online retailers to bring you the very best Cyber Monday projector deals. You'll find offers on everything from affordable options for portable projectors that are perfect for giving work presentations on the go or taking to a friend's house for a movie night, to high-end projectors that can recreate the cinema experience in your own home. Have a look below for our top can't-miss projector Cyber Monday deals, and don't forget to check out all the other best Cyber Monday deals available on today's most popular tech as well.
Best Cyber Monday projector deals 2021
Apeman Portable Mini Projector — $61, was $80
Why buy:
If you're after an affordable, simple projector for casual use, then this option from Apeman has all the essential features you'll need. It offers a large maximum display size of 180 inches, with support for 1080p input and a native resolution of 800 x 480p. That's not going to be cinema quality, but if you want a simple projector for a kid's room or for occasional use, this is a great choice. And it has advantages like speakers built into the projector, with a dual-speaker system that provides sound without the need for any extra audio setup.
As for connecting to the projector, that's easy with connectivity options including HDMI, VGA, USB, microSD, and AV. You'll find it easy to link up devices like phones or computers, including compatibility with iOS devices. Another factor that's important to consider in cheaper projectors is the amount of noise they generate, as that can be distracting when you're trying to watch a movie. The Apeman is a low-noise option, with an advanced fan cooling system that is optimized to require minimal fan spinning to keep the bulb cool — and all of that means less fan noise. The projector is also easy to transport, being compact and not heavy, and it comes with a carrying case so you can easily take it around with you.
VANKYO Leisure 410 mini projector — $90, was $110
Buy Now:
Sometimes you aren't looking for fancy features or advanced setup options — sometimes you just want a simple, easy-to-use, cheap projector for hosting the occasional movie night with friends. If that's the case for you, this Vanko Leisure projector might be just what you need. It's a basic projector supporting resolutions of up to 1080p — so it won't be cinema quality, but it will be good enough for casually enjoying a movie — and it will work with basically any HDMI device, and there's an option for USB connections as well.
At 90 Lumens it'll be bright enough for watching at night or in a darkened room, and with a projection size of up to 200 inches, it'll easily create a huge image for you to watch. It comes with a remote for easy control, and it has built-in speakers if you don't have an external sound system you can use. Fan noise can be a problem on cheaper projectors, but this one comes with a cooling system that uses heat dispersion as well as fans, to help keep fan noise lower.
Anker Nebula Capsule Max mini projector — $376, was $470
Why buy:
Anker is a favorite brand for no-fuss, affordable products that get the job done and offer great quality for a low price point. If you're after a remarkably portable projector, the Anker Nebula Capsule line has been consistently mentioned in our best pocket projectors roundup thanks to its bonus features like an integrated speaker, so you don't need to cart around extra hardware to watch and listen to movies at the same time. The Anker boasts what it calls a 360-degree speaker that pumps out sound in all directions, so you'll be able to hear from all around. That makes setup easy because you don't need to worry about extra wires — you can just set up your projector and start watching straight away.
In terms of brightness, the Nebula Max clocks in with a 200 ANSI-lumen image, which is bright enough to work for most needs as long as you're not in a bright, sunlight-filled room — so it's perfect for a cozy movie night at home or showing a work presentation in an office space with the blinds closed. One of the other great features of this projector is that it runs on Android 8.1, which makes streaming a snap. You'll find options for easy streaming from services like Netflix and YouTube, plus the thousands of other apps that have Android support. In terms of connectivity, you'll have no shortage of options on this device, as it offers support for HDMI, USB, Bluetooth, Wi-Fi, and screen mirroring, all with up to four hours of playback on battery mode.
Optoma HD39HDR home theater projector — $799, was $999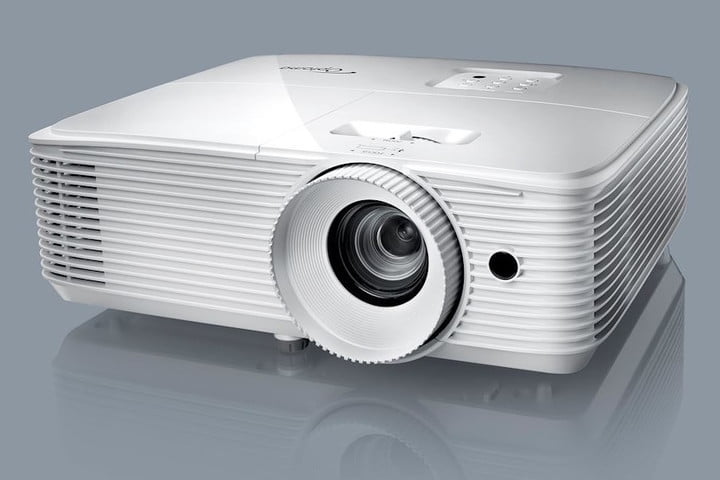 Why buy:
Optoma's 4K HDR projectors grabbed our attention for their focus on gaming, making them a great way for gamers to enjoy their experience on a huge scale without needing to take up a massive amount of space with a TV. If you're hoping to enjoy some epic gaming action without splurging on an enormous TV — or if you live with family or friends who aren't thrilled by the idea of a massive gaming setup taking over the living room — then the Optoma projector might be the option for you. Generally, projectors often have issues with input lag or slow response times, which make them unsuitable for serious gaming. But the Optoma HDR 4K range aims to fix that. The HD39 has an enhanced gaming mode that offers a superfast response time of 8.4 ms, as well as that all-important 120Hz refresh rate.
As well as being speedy, the Optoma HD39 boasts an impressive 4,000 lumens of brightness, so it's bright enough to use during the day or with the lights on. And it has calibrations to help you enjoy accurate colors, as well as support for 1080p resolution from 4K input and a good contrast ratio to avoid washed-out images. That means this projector isn't only for gamers but will be pleasing to movie fans, too, making it a great alternative to a large-screen TV as the centerpiece of your home theater. Finally, it has features to make it easy to set up, like vertical keystone correction and zoom, so you can place the projector in a convenient spot in your room.
Epson EpiqVision Mini EF12 Smart Streaming Laser Projector — $800, was $1,000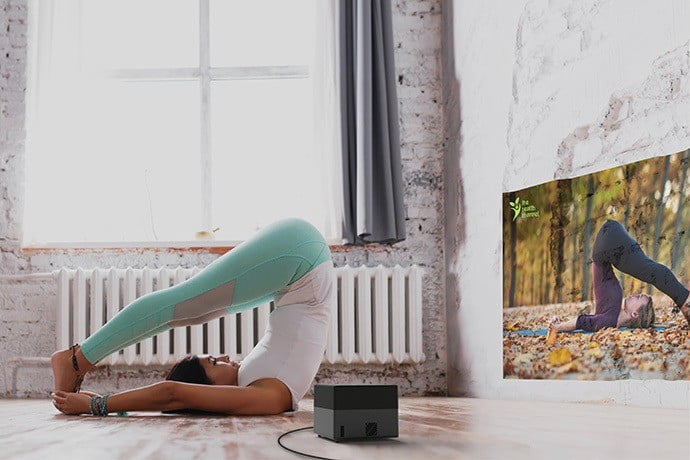 Why buy:
If you want a large image and you don't want to compromise on quality, then a projector like the Epson EpiqVision may be right up your alley. It offers a Full HD picture in a huge size of up to 150 inches, so you can enjoy both big size and high levels of detail. With Android TV software built into the projector, it's ideal for a home theater system as you can easily stream from your favorite services like Hulu, HBO Max, and YouTube, and even watch live TV. Adding to the TV-like experience is a remote to easily control the projector and adjust volume and other settings from the couch.
One of the big draws of this projector is its sound system, which is provided by respected audio brand Yamaha. The audio system supports Dolby Audio and is a step above most projector speakers, offering what Epson says is sound quality that rivals that of soundbars. You won't need extra speakers to enjoy a movie with this feature. Another advantage of this projector is its slick square format, which is modern and discreet, looking more stylish than most projectors for those who care about their home theater setup looking as good as possible. It is also small, making it easy to tuck away, so this might be the perfect option for a smaller home.
BenQ TK850 4K UHD home theater projector — $1,499, was $1,699
Why buy:
If only the best will do for your home theater, then the BenQ TK850 is a home cinema monster. With 3,000 lumens of brightness, that's enough to use it even during the day when many other projectors would struggle. That makes it a viable option as a replacement for a TV in your high-end home cinema setup. While it won't deal well with direct sunlight, it can handle ambient light that's typical for daytime viewing far better than most projectors can. It also has high color accuracy that lets you see content as the creators intended.
In the box, you'll find nice extras like a transport box with a carrying handle and a backlit remote that is easy to use in the dark. And on the projector itself, you'll find two HDMI inputs (including one with HDCP 2.2 for 4K devices, and a 3.5mm audio output. Its short-throw, 1.13 – 1.47:1 ratio makes it easy to find the right location to place it and set it up, and there's automatic keystone adjustment to optimize the image once you have everything in place. You'll find handy options available like a dedicated football mode and another sports mode, making this ideal for catching big games in exceptionally high quality.
Vava 4K UHD Smart Ultra Short Throw Laser TV — $2,200, was $2,800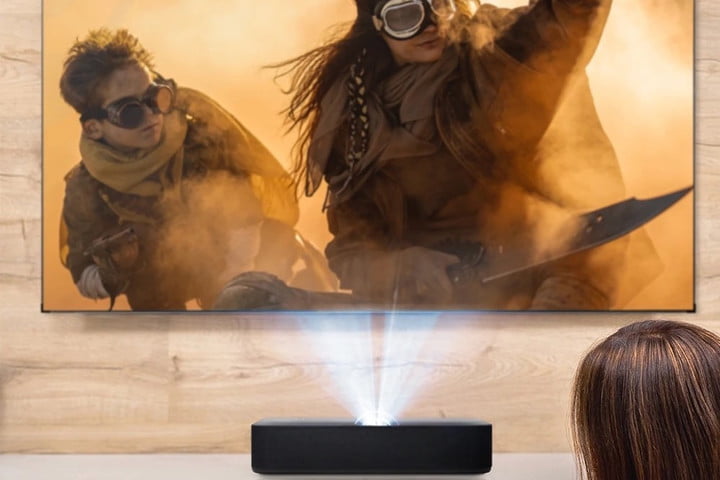 Why buy:
Love the idea of a huge, projected image on the wall, but don't want to contend with a projector sitting in the middle of the room or dangling from your ceiling? Laser TVs like this Vava 4K Laser TV are the answer. With an ultra-short throw design, these projectors can be placed just inches from the wall you want your picture on, making them proper TV replacements.
The other benefit to laser TVs is that, because they sit front and center — like a home theater speaker — they can provide much better sound quality than a standard projector. This model is equipped with two 30-watt speakers designed by Harman Kardon and the unit supports both Dolby Audio and DTS HD audio formats. As built-in sound systems go, this will be better than just about any TV or projector you can buy.
Laser TVs don't last forever, but their light source will keep going long after regular projector bulbs need to be replaced. This Vava model claims to have a 25,000-hour lifetime. With tons of inputs and an Android-based smart TV operating system, it's everything you need in one simple device.
When do these Cyber Monday projector deals end?
Cyber Monday deals technically come to an end tonight, at the end of Monday. However, that doesn't mean that all deals will be available all day long. We frequently see deals popping in and out throughout the day, with some lasting as briefly as a few hours. So if you see a projector deal that you want, it's a good idea to snap it up as fast as you can before the deal expires and you miss out on your chance to score a projector for a great price.
Another issue to consider is whether certain products will sell out. Retailers are seeing many more out-of-stock warnings this year — an Adobe Analytics report says those warnings are up 124% compared to last year — so particularly desirable products might sell out more quickly than in previous years. To be sure you don't miss out on the projector that you want, we advise you to shop straight away.