One of the biggest complaints about home theater setups is that a shiny new TV might look amazing, but it sounds lackluster. That's because the slim bezels that are popular on newer TVs leave little room for beefy speakers. Fortunately, there is an easy solution to this problem: Treat your new TV to a companion soundbar. These low-profile bars sit under your TV and provide a real boost in sound, and many even come with subwoofers for an even more immersive cinematic experience. To save some money on your next sound system purchase, we've rounded up some of the best soundbar deals to be found on the internet.
Best soundbar deals
Insignia 2.0-Channel Soundbar — $60, was $100
Why buy
If you want a quick and easy upgrade for your TV, or just want to give a soundbar a spin without paying out the nose, this 2.0-channel model from Insignia ticks all the boxes. It's available at an excellent price point (not many name-brand soundbars are available for less than a Benjamin) and it'll give your TV sound a boost without getting into the complexity of higher-end options.
It's got three different sound modes — Theater, News, and Standard — to optimize the audio for whatever type of content you're watching or listening to, and it comes with a handy little remote that allows you to change settings and control playback. The soundbar also features Bluetooth which is a great thing to see at this price point. This wireless connectivity allows you to cast audio right to the soundbar from a phone, tablet, or similar device. You could even use it as a large Bluetooth speaker if you want, just note that it doesn't have an internal battery.
Optical, RCA, or 3.5mm audio jacks make installation a breeze, and you can easily mount this compact soundbar on a wall as well. For less than a hundred bucks, the Insignia soundbar is about the cheapest one you're going to find that's still worth your money.
Samsung HW-S40T 2.0-Channel All-in-One Soundbar — $130, was $180
Why buy
The Samsung HW-S40T was clearly designed with simplicity in mind. From its sleek, attractive housing wrapped in Kvadrat fabric to its all-in-one design (more on that in a bit), this soundbar packs premium quality and modern connectivity into a package that you can afford. The Samsung HW-S40T is a 2.0-channel soundbar, meaning that it packs two speaker drivers inside its chassis. However, this one also boasts two internal tweeters as well as two woofers right into the frame, enhancing the treble and bass beyond what you'd normally expect from a standard 2.0-channel soundbar.
Just as impressive is its connectivity: The HW-S40T has advanced Bluetooth that allows for two input devices (such as smartphones) to be connected at once, so you don't have to keep disconnected and reconnecting when you're swapping between your smartphone or tablet. There's a dedicated music mode as well. This optimizes the soundbar's output based on what music is playing. The Smart Sound feature does the same thing when you're watching TV, adjusting settings on the fly for the best output quality whether you're watching sports, an action movie, your new favorite show, or even the news.
The HW-S40T itself can also connect wirelessly to a compatible Bluetooth-enabled smart TV if you want to do away with unsightly cables running from the television to the soundbar. This Samsung all-in-one soundbar won't completely replace a proper subwoofer (see our next pick if you want that), but for well under $200, it's a great value that punches well above its weight.
Vizio 5.1-Channel V-Series Soundbar with Wireless Subwoofer and Surround Speakers — $200, was $250
Why buy
To get a truly cinematic home theater experience, you want to opt for some sort of surround sound setup — which means a single 2.0-channel soundbar (while certainly a major upgrade over your TV's built-in speakers) won't quite cut it. Thankfully, some soundbars like this V-Series model from Vizio come with some neat extras to help you upgrade your home theater system without the expense and hassle of dealing with a ton of speakers and wires hooked up to an A/V receiver.
The Vizio V-Series 5.1-channel soundbar comes with two low-profile surround speakers along with a wireless subwoofer. The soundbar itself has three full-range speakers inside, plus there are two surround speakers which can be placed to the right and left of your viewing position for a more immersive experience (alternatively, you can keep them near the soundbar and use them in Front Surround Mode if you want).
The subwoofer is wireless, which makes setup and positioning easier. The soundbar features Bluetooth connectivity so you can stream audio to it as well. A 5.1-channel soundbar like the Vizio V-Series is a great option if you want something more than a basic soundbar but don't want to fuss around with a complicated surround speaker setup. And for this price, you're getting a ton of sound for your money.
Samsung HW-Q950A 11.1.4-Channel Soundbar with Subwoofer and Rear Speakers — $1,600, was $1,800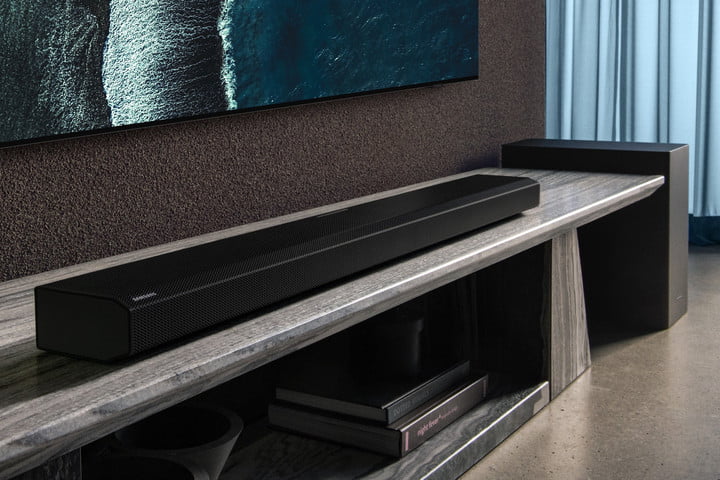 Why buy
If you're a serious home theater enthusiast looking for a soundbar setup to match (which means that our other, cheaper picks likely didn't scratch that itch), Samsung has it in the HW-Q950A. This 11.1.4-channel soundbar is the first of its kind: The bar itself features seven front- and outward-facing speaker drivers along with two up-firing sound channels, while the two rear speakers each have two ear-level drivers along with one up-firing sound channel.
That, with the addition of the subwoofer, delivers a combined 11.1.4 channels of sound, which is quite unlike any other soundbar on the market. Soundbars typically aren't capable of delivering true surround sound (even the Vizio 5.1-channel model falls just shy of it, as it lacks rear speakers). In the past, if you wanted surround sound, you need to buy at least seven separate speakers and an A/V receiver to hook them all up and provide power. That the Samsung HW-Q950A soundbar achieves this is an accomplishment in itself, and since the rear speakers are wireless, setup is much easier than a traditional surround sound setup — no A/V receiver necessary.
Along with that great design and superb sound quality, this soundbar packs some other useful features including automatic room calibration, adaptive sound modes that adjust output for your specific content, the Amazon Alexa voice assistant built in, a dedicated gaming mode, and Bluetooth connectivity for mobile device casting. This is an especially good choice if you own a Samsung TV, as you can take advantage of extras like Q-Symphony which provides perfectly synchronized audio by adding the TV's speakers to the whole mix.
How to choose a soundbar
There are a few main features you're going to want to keep an eye out for when searching for the soundbar of your dreams, and you're in luck because we've done all the hard work for you, making sure all of the bars we've selected have all the tools you need to create an immersive home viewing experience.
Having said that, there are some soundbars that bundle features that aren't necessarily required but could be a welcome addition to your entertainment setup. For example, Vizio's SmartCast bars have Chromecast Audio built in, opening up the door to a Sonos-like multi-room music-streaming experience with support for both Google Play Music and Spotify right out of the box.
It's also worth checking the soundbar you're eyeing up has an HDMI slot on board (all of the ones we've featured do), since it supports far more audio formats than a standard optical cable, including Dolby Atmos, Dolby Digital Plus, and DTS:X. You're going to want at least one of these if you're hoping to create the home theater to rule all home theaters — or something close.
And if you're only just starting to spruce up your home entertainment setup and haven't invested in one already, you will probably benefit from a soundbar that comes with a subwoofer in the box. Fortunately, almost all bars on the market can be purchased as part of a bundle that includes a wireless subwoofer, so you shouldn't have to search far and wide for this.
Whatever the case, for anyone looking for a soundbar the core features are: HDMI with support for either a Dolby or DTS format (or both), and a subwoofer if you want to add some floor-shaking kick to the experience.