Walmart is a great place to find a TV at a good price, given that it has a massive range covering everything from small entry level TVs to massive centerpiece options. In fact, that's what we've tried to show here, collecting some of the best TV deals we've found on Walmart at various prices. Whether you're looking for something that's truly a budget TV but has some good features and picture quality, or a higher-end TV that works for both watching stuff and gaming, there's a little bit of something for everybody.
Best Walmart TV Deals
Vizio 50-inch Class V-Series — $298, was $358
Why Buy
The V-series is Vizio's budget line, but don't let that fool you, as they pack it with many features. For example, not only is it a 4k display, but it also has an IQ image processor, which can smartly upscale images to 4k from their original resolution. It also comes with HDR10 and HLG, and it has a surprisingly good contrast ratio for a TV at this price point, although the color gamut isn't that wide; understandable given it's a sub-$300 TV. Even so, it does have the V-gaming engine, which is essentially Vizio's attempt at making the TV more suitable for gamers, and they do manage it with a sub 10ms input lag, although the refresh rate doesn't go above 60Hz, so while it will work for console gamers, it may be better suited for PC gamers who don't play action-packed games.
In terms of convenience, it comes with a Bluetooth remote that has an in-built microphone, which is great for you to control your TV without having to pull your phone out to interface it, although there is a Vizio phone app if you do. We'll also mention that it is compatible with both Apple AirPlay and Chromecast, so you can still use your mobile phone if you'd prefer to do it that way. There are also all the streaming apps that you'd expect that come as standard, such as Netflix and Disney+. You also get access to WatchFree+, which is Vizio's streaming service, a nice little addition, especially if you don't already own a streaming account.
Ultimately, the Vizio 50-inch V-class is what you get: a budget TV with great features. It could be a bit brighter, and the viewing angles aren't that great, but this is a great option if you want a budget TV for yourself.
Philips 55-inch Class — $348, was $428
Why Buy
Phillips has always been a big name for electronics, and while the smart TV market is saturated, Phillips still manages to do a relatively good job of providing you with a quality budget TV. For example, one of the big standout features is the convenience provided by the remote, which not only has a built-in mic, it also has convenience buttons for Netflix, Youtube, and even Google Play. There's also a Google Assistant button, which should help make life easier given that the TV runs on AndroidTV, which itself allows you to do a huge variety of things backed up by Google's ecosystem of services. Of course, if you prefer to stream directly from your phone, it also supports Chromecast.
When it comes to image, it's pretty good and has some great contrast, and comes packed in with HDR 10 and 4k UHD resolution. You'll also be happy to know that colors are bright and natural, which is the minimum we would expect for a TV at this price point. Unfortunately, it doesn't have any gamer-specific features, and the native refresh rate sits at 60Hz, but it does come with Wireless LAN 802.11ac MIMO for excellent wireless streaming performance. So if you don't have a way to connect the TV through ethernet or simply prefer a wireless connection all around, this TV is a great option.
Overall, this 55-inch Phillips screen is targeted toward the movie or TV show watcher who wants a large-screen TV at a budget price. While the image is better on higher-end TVs, as is to be expected, the brightness it manages to put out belays its lower cost, and if you don't care about games or action-packed films, then the 60hz refresh rate should be more than enough for you. This is especially the case given the convenience features of the microphone and the AndroidTV platform.
Vizio 65-inch Class M6 Series — $550, was $678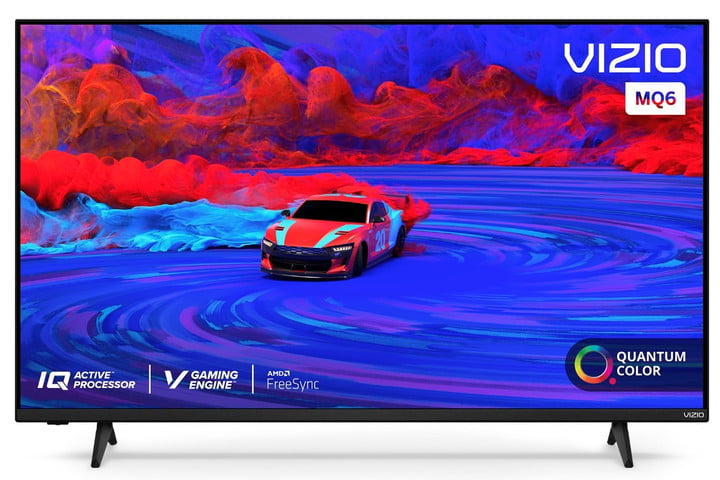 Why Buy
Vizio's M6 is what we'd consider a 'premium' budget TV, adopting great panel technology in the form of the Quantum dot but not necessarily including some of the advanced features, like local dimming, that you'll see with more expensive TVs. Even so, it's a surprisingly well-balanced TV given that it also works well for games, with the inclusion of things like Freesync support which can mitigate screen tearing when gaming, although it sadly only has a 60Hz refresh rate. That ultimately means that it's not very well suited for console gaming's 120Hz refresh rate, but it should be enough for most PC casual gamers, which is a nice bonus for those who want a multi-purpose TV.
As for image quality, it has great black uniformity and contrast ratio, which is always a huge plus in any TV and helps avoid washed-out colors. Paradoxically, even though it has a very wide color gamut with over a million hues, and supports DolbyVision HDR, HDR10+, and HLG, HDR content, in general, can be a bit mediocre due to the lack of brightness. Even so, that's not necessarily a dealbreaker, especially if this is your first HDR TV or an upgrade, especially since HDR is still ok.
The M6 also has the variety of convenience features you'd expect for a TV at this price point, such as a remote with a built-in microphone, support for AirPlay 2 and Chromecast, and the standard streaming apps from Netflix to Disney+. It also supports Dolby Digital+ and AC-4 codecs, which provide some great audio overall, so this is a nice screen if you enjoy watching concerts, although adding something from our soundbar deals probably would help quite a bit.
If you're looking for a top-notch budget TV and can put down the money for it, the M6 is the one to go for, especially as a great all-rounder TV at the 65-inch size that supports 4k UHD.
Samsung 70-inch Class 7-series — $648, was $750
Why Buy
What sets this Samsung 7-series apart from other TVs in this tier is its size, especially without giving up a lot of features. A 70-inch TV at sub $700 is something to write home about, and the fact that it comes from Samsung is impressive, even though their Crystal UHD technology is a step down from the traditional QLED that you tend to see branded on everything. If you prefer one of those, you can check out our best QLED TV deals, but for this Samsung one, the 4k resolution and support for HDR, HDR 10+, and HLG, are still pretty good all around. Another positive is that it has amazing black uniformity, which is always a big plus, especially if you tend to watch many shows or movies that take place at night or dusk, such as horror movies.
When it comes to gaming, it's a bit of a mixed bag. It has a pretty low input lag, but the response times are a bit up there, up to 18ms in some circumstances, so fast-paced games or anything with a lot of action might end up with blurry images, which is unfortunate. Much like the other screens, this screen is probably better suited to slower-paced games, such as puzzles or simulations. Still, the overall picture quality is great, with crisp lines, no weird artifacts, even with fast-paced action, and very little, although somewhat noticeable, blurring. That being said, there is one downside in that the viewing angles aren't great, so if you're having guests over, it's best to have them sit near or next to you, so they get the same type of viewing experience.
Finally, the 7 series runs on Samsung's Tizen smart platform, but it does have the myriad of streaming services you'd expect. The remote is also relatively convenient, with Netflix, Hulu, and Prime Video buttons, although it doesn't have a built-in mic.
All in all, the Samsung 70-inch Class 7-series is a great general TV with some nice images, although its primary selling point is being a 70-inch TV that costs so little.
TCL 75-inch Class 4-Series — $698, was $1,300
Why Buy
It's not often you see a 70-inch screen in the sub $1,000 range, so it's even more impressive to see a 75-inch TV under that price, although there are some compromises here and there to get it at that point. For example, it does lack a little bit in the brightness performance, meaning that HDR content is not the greatest to watch on it, a common issue with budget TVs, so not something that should be a dealbreaker. Even with the brightness issue, the overall performance is still excellent, with some great contrast ratio from the VA panel tech. It also has some pretty good reflection protection, so even in somewhat bright rooms, you should be dealing with any glares, although, as mentioned earlier, the brightness doesn't get high enough to overcome a lot of it.
For gaming, it's reasonably good, especially given the lower input lag, although response times are a little on the high side, which may cause blurring, another issue that tends to happen with budget monitors. As such, it's not going to be great for console gaming or high-paced gaming, and is going to provide middling performance for watching sports. That being said, it would work well as a PC monitor and generally works better for PC gaming, especially if you don't play anything with lots of action.
As for the other features, the smart TV aspect is the best, given that it runs on Roku, and Roku is pretty powerful, with all the streaming apps you'd expect. It also has a pretty great mobile app, and the remote is pretty small and streamlined, too, although it would have been better with a built-in mic. You'll have probably noticed that it doesn't support Chromecast or AirPlay, although truthfully, that doesn't detract from the user experience given the design and build of the Roku platform. It also comes with Wi-Fi 5 and an ethernet, giving you various options for connecting your TV to the internet.
At the end of the day, where this 75-inch TV works best is for watching movies or shows in a dark or dimly lit room. You can also do some PC gaming on it, provided that you enjoy slower gamers, and console gaming might be a bit difficult unless you're running a PS4 with its 60Hz refresh rate cap, and if you do, you could check out some of the best PS4 games you can play right now for some ideas.
Samsung 55-inch QLED — $998, was $1,158
Why Buy
It may throw you off that this Samsung 55-inch is more expensive than the 70-inch one and even more expensive than the 75-inch TCL one, but the truth is that you're paying more money for more features. For example, while it may be smaller, it does manage to hit a 120hz refresh rate, and combined with the incredibly low input lag and reasonable response time, it makes this TV good for any type of gaming. That means even PS5 gamers, with all the best PS5 games, or PC gamers who enjoy action games can get a lot out of this screen, making this a great investment if you also really enjoy gaming and want a multi-purpose TV. It also has Freesync, another huge plus that tilts it towards an excellent purchase.
The HDR is also pretty good on this screen, especially since it doesn't have the same brightness issues as other TVs on this list, although it still isn't perfect. That being said, you can still watch stuff in brighter rooms, especially with its above-average handling of glare and reflections. One thing that would have been nice is a slightly more extensive color range, but it's not a dealbreaker, and the overall color balancing is still pretty excellent.
In terms of convenience, we can finally say that this Samsung TV remote has a mic, which is great since the TV supports Amazon Alexa and Google Assistant. That's going to be useful given the dozens of streaming apps available for you to use, and even though the remote does have some convenience buttons, it's still best to use with voice. It also has a pretty good 4k upscaling processor, which is great if you like to watch older content or content that mostly comes in 1080p or 1440p.
While the Samsung 55-inch Class is pretty expensive and not as big as the 70-inch or 75-inch, it's probably the best screen of the lot if you want it for a little bit of everything. Gaming on it is a peach, as is watching action-packed shows and sports, and even the HDR content is great on it, even if the peak brightness could have been a little better. In fact, this is probably one of our favorite Samsung TV deals.
When are the Best Walmart TV deals?
The most well-known sales during the year are Prime Day, Cyber Monday, and Black Friday, with the closest one being Prime Day. You're likely to see a ton of TV deals, especially across different retailers and not just Amazon, since they tend to like to get in on the deals season along with Amazon. After that, there is Black Friday on November 25th and Cyber Monday on November 28th, and you're likely to see some great TV deals on both of those, especially since TVs tend to be a big-ticket item. Of course, the issue with Black Friday and Cyber Monday is that they tend to be limited stock, so if you aren't on top of the sales from the beginning of the day, you'll miss out.
Of course, there are also a lot of deals outside of those three periods throughout the year, especially with big events that are coming up like Father's Day and Labour Day, both of which are likely to see some fantastic deals on electronics. There are also the New Year sales, of course, and Super Saturday, which is the weekend before Christmas, although these end-of-year sales tend to be incredibly hectic and suffer from limited stock deals.
All that being said, if you can't wait that long, then you might as well buy now, especially if you find a deal you like since you don't know if a better deal is going to come at any point down the line. Even if you do miss a better deal, it's not the end of the world and not something you should genuinely stress over; it's better to have the TV deal you like now and enjoy it for several months than have nothing in the hopes of getting a deal down the line.
Of course, if that doesn't convince you, Digital Trends likes to keep several deals articles updated from which you can go in and either find stuff you want or just keep an eye on since they're updated monthly or even weekly in some cases. For example, we have a collection of the best 65-inch TV deals, best 70-inch TV deals, and even the best 75-inch TV deals, so you can pick from one of the sizes that work the best for you. If budget is an issue for you, we have a collection of the best TVs for under $1,000 and the best 4K TVs under $500, so there are two great price points that you can look into. Finally, you could also look into what the best Amazon TV deals and Best Buy TV deals are, which should give you more than enough confidence to pick up a great TV right now without fear of missing out on a deal in the future.